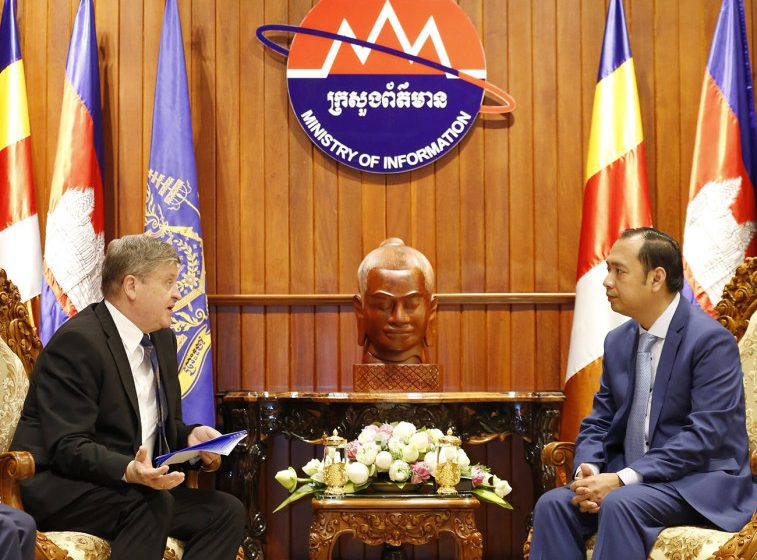 Cambodian, Russian State-Owned Media Deepen Cooperation
PHNOM PENH: Cambodian and Russian state-owned news agencies are teaming up to fight fake news by expanding their information exchange to provide a mutual news source for both countries.
On October 18, Cambodia's Minister of Information, Neth Pheaktra, met with Russian Ambassador Anatoly Borovik to strengthen cooperation between Cambodia's Agence Kampuchea Presse (AKP) and Russia's largest government-owned news agency, TASS.
The two signed a joint Memorandum of Understanding between their respective state-owned news outlets to enhance the partnership by including broader information exchange as a mutual official news source for the two countries.
The two also shared the same understanding of the importance of fighting against fake news and misinformation. TASS has itself received international criticism for disseminating misinformation, leading to its removal from Reuters and YouTube platforms. Getty Images also ended its partnership with TASS last year following its coverage of Russia's invasion of Ukraine. TASS CEO Sergei Mikhailov said he was "extremely sorry to learn of Reuters' decision" and that he understood it was "influenced by the current world atmosphere."
Ambassador Borovik accepted Neth Pheaktra's request to support the technical capacity building for Cambodian information officials, as the Ministry of Information has announced it will be training journalists and PR representatives. The Ministry also created a committee to propagate, explain, and protect Cambodia's positive image in September, showing the new administration's priorities.